Recruiting talent is hard. AccuSourceHR makes it easier.
Quality background screening begins with two key ingredients: knowledgeable people support and innovative technology resources. AccuSourceHR ensures clients enjoy both. Since our inception in 1999, we have continuously invested in developing new technology while providing direct, consistent, and supportive US-based client care because we understand every business is unique and each client deserves customized solutions tailored to meet their specific needs.

With AccuSourceHR, clients enjoy fast, cost-efficient, and compliant screening services unmatched in our industry. We strive to partner with clients and serve as a valuable extension of their human resources, security, and risk management teams.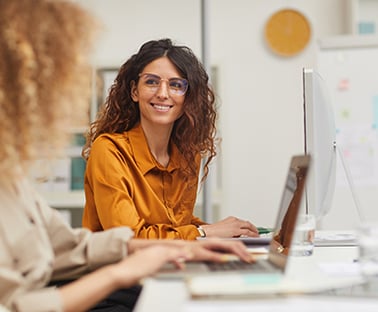 Our Vision
Creating secure environments for organizations to thrive.
Our Mission
As a trusted partner,

AccuSourceHR

offers compliant, high-quality screening solutions to help navigate risk and maintain secure environments.



All-In
We give 100% of our attention, capabilities, and resources to our clients, always.

Solution Driven
We strive to provide the best fit options for each unique customer.

Customer Obsessed
Our employees are empowered to deliver concierge-level service and ensure each client and user is satisfied and fulfilled in every interaction with AccuSourceHR.

Accountable
We do what we say and uphold our commitments and promises.
We Have a Clear Client-Centered Focus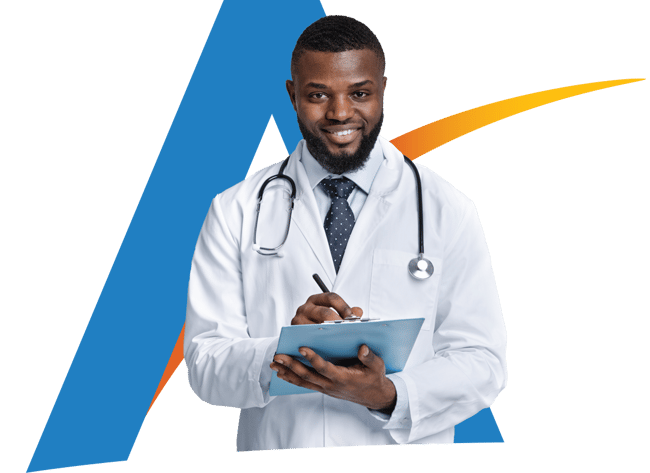 AccuSourceHR is 100% dedicated to customer satisfaction from our operations staff to our sales and account management groups to our leadership team. We do not offshore staff, choosing instead to employ US-based team members in strategic locations across the nation. With AccuSourceHR, you should expect white-glove client service with an emphasis on supporting technology-forward solutions to simplify workflows and ensure positive client and candidate user experiences.

Our passion is to deliver on the promise to afford the best employee background check service experience for both clients and their applicants. We strive to continuously work to make our processes effortless for our end-users. We understand our clients' business reputation, as well as their investment in the recruitment process are at stake each and every time they process an employment screen. We endeavor to make each screen and interaction with AccuSourceHR the best possible experience.
We are Fully Devoted and Attentive to the Unique Needs of Each Customer
No two businesses are alike, even if they are in the same industry. We do not subscribe to the beliefs "one size fits all" or "all businesses in a specific industry should fit a single mold." We consult with each client to understand the goals and objectives they hope to achieve through their employment screening activities. We also evaluate their individual hierarchy of key decision factors including budget, speed of processing, risk mitigation, and regulatory compliance needs to help clients develop their perfect program. Further, we proactively check in with clients on a regular basis through quarterly and annual account reviews and scheduled conference calls to evaluate usage trends, evolving needs and ever-changing legislation and regulatory compliance requirements that impact many clients.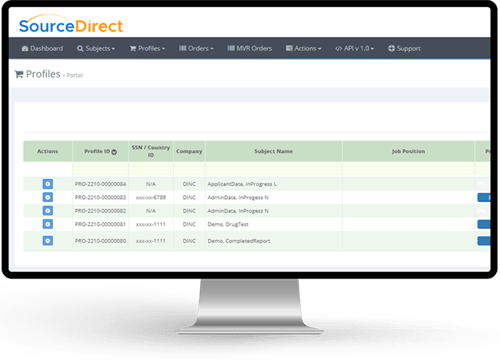 Key performance metric tracking and management are a high priority for AccuSourceHR's seasoned leadership team. We maintain a keen focus on primary performance indicators including file turnaround times (TATs), employment and education unable to verify rates (UTVs), and production costs to help ensure our clients enjoy optimal service experiences. AccuSourceHR's executive management team measures employee and client overall satisfaction by engaging feedback through regular surveys and NPS responses. We believe affording best-in-class service begins with reinforcing a diverse, supportive, and quality-based corporate culture.
We Partner with Clients to Ensure They Have the Resources to Remain Compliant with an Ever-evolving Legal Landscape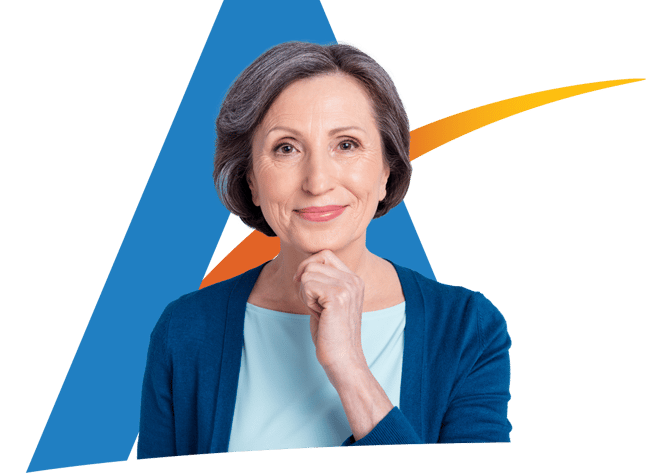 Our attorney-led in-house quality assurance and compliance departments review every screening file produced for compliance with local, state, and federal regulations. Additionally, through our candidate portals, we engage technology to ensure each screening candidate receives and executes the appropriate disclosure and consent documents required for their residential and employment geographic location, significantly mitigating legal risk for our clients.
We can help you comply with Equal Employment Opportunity Commission (EEOC), Fair Credit Reporting Act (FCRA), State-specific Reporting Regulations, Health Insurance Portability and Accountability Act (HIPAA), and Municipal Codes. This is just a partial list of the regulatory agencies and legislation employers must navigate to ensure the employment screens they conduct are legally compliant. We partner with our clients to ensure they are kept abreast of changes in legislation and evolving trends in compliance requirements. Our clients are afforded continuous information through blog posts, educational webinars, educational videos, news alerts, and live updates. We also partner with top industry legal experts including Seyfarth-Shaw to ensure we not only are aware of changing laws when they occur but are tracking and identifying emerging trends to alert clients so they can prepare in advance.
We Believe in Investing Heavily in Technology to Ensure Maximum Convenience, Timeliness, and Ease of Use
We support over 30 turn-key, real time Applicant Tracking System (ATS), and Human Capital Management System (HCMS) integrations with common service Application Program Interfaces (APIs.) This ensures many of our clients with standard ATS and HCMS platforms can easily integrate to afford single sign-on, minimization of redundant data entry and easy assimilation of pre-hire employment screening into the overall onboarding process. Our web-based, mobile-friendly platform, SourceDirect, affords a user-friendly, easy to navigate interface for clients who choose to process their screening requests directly.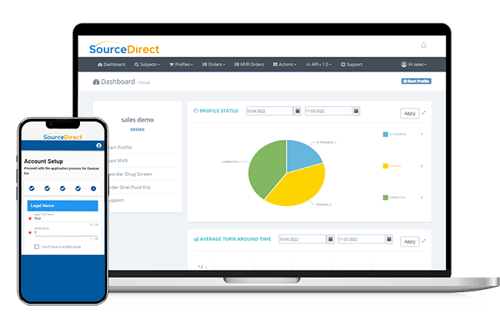 For clients who desire the flexibility of allowing applicants to enter their own personal data required to execute the screening process, we offer our applicant interfaces. The robust applicant interfaces enable applicants to schedule their own drug screens, enter sensitive data like dates of birth and e-sign required authorization documents. For clients with industry-specific compliance needs we offer platforms to track immunization and other medical compliance records, monitor driving records and provide notification of adverse events, and continuously watch exclusion and debarment lists to ensure staff is clear to practice and participate in government funded programs.
Data Security and Protection is a Top Priority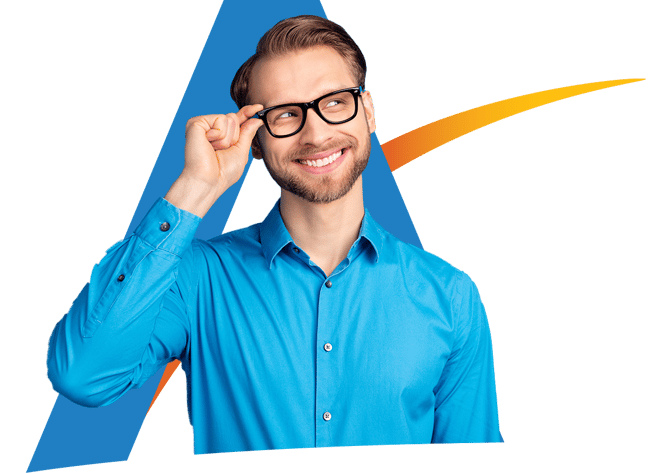 As a responsible CRA, we are continuously aware of the sensitivity of the data our clients entrust us with each time they process a background screen. All staff members submit to comprehensive background screening and are fully trained and tested on data security practices and safety measures. All consumer information transmitted using our network, including email, is secured using a minimum of 256-bit SSL encryption. Further, AccuSourceHR holds Professional Background Screening Association (PBSA) accreditation and regularly submits to audits of our security policies and practices as part of the accreditation process.